Contact Info
6 Rd – 205 Degla St., Maadi
(+202) 2519 6152
(+2) 012 2244 8964
(+2) 012 2100 6465
(+2) 0100 840 4444
(+2) 0100 007 9586
(+202) 2521 3242
Mon – Sat: 9:30 – 18:30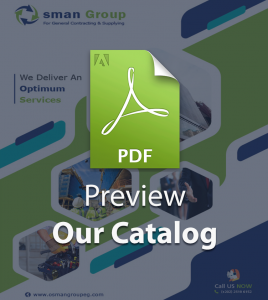 ABOUT US
We are a general contracting company. Osman Group has been founded in 1965 as a small firm at the center of Cairo; it was known as Osman Repair for home repairs. After expansion, we have moved to Maadi in 1970, carrying the same name, to serve both Maadi and foreign residents.
Our services are mainly General Contracting, Supplying, House Maintenance and Decoration works. We are constantly developing ourselves by adding the most enhanced equipment and well-trained employees to our working environment, by which our activities expanded in 1985 to include other trades such as interior, exterior painting and decoration works.
Moreover, our company activities have been expanded to the most of Egypt's governorates such as Suez, Hurghada, Alexandria, Sharm Al Sheikh …etc. We have an elite of professional engineers who are specialized in several fields and capable of handling and dealing with any emergency case. In addition, Osman Group has the required experience as we deal with major companies in different fields such as Oil companies, hospitals, business, engineering, mining, real estate development …etc.
Our Vision
To innovate distinctively in the Architecture Design, Engineering Services and Real Estate industries with a global vision of modernization by adapting to rapid international and regional economic changes. Osman Group aims to add new dimensions and values to the national economic map.
Our Mission
To provide our respectable clients satisfying, professional services with the highest quality. Our greatest aim is to gain customers' trust and satisfaction by adopting a unique, principal-in-charge concept that provides high level executive input and oversight to all our projects.
Core Values
Values are the things that makes Osman Group different from all other contracting companies in Egypt. Honesty and integrity are the main pillars that Osman Group has been based on since the beginning. They should be applied in every job to get our clients' satisfaction, ensuring the best prices and quality. Our goal is explicitly collaboration with the best suppliers, engineers, contractors and workers to deliver projects on time with competitive cost and high quality. We also believe that our employees are our major assets; they are continually working hard to do their jobs with quality workmanship, attention to Osman Group Company specializes in managing high-profile and detail and pride.